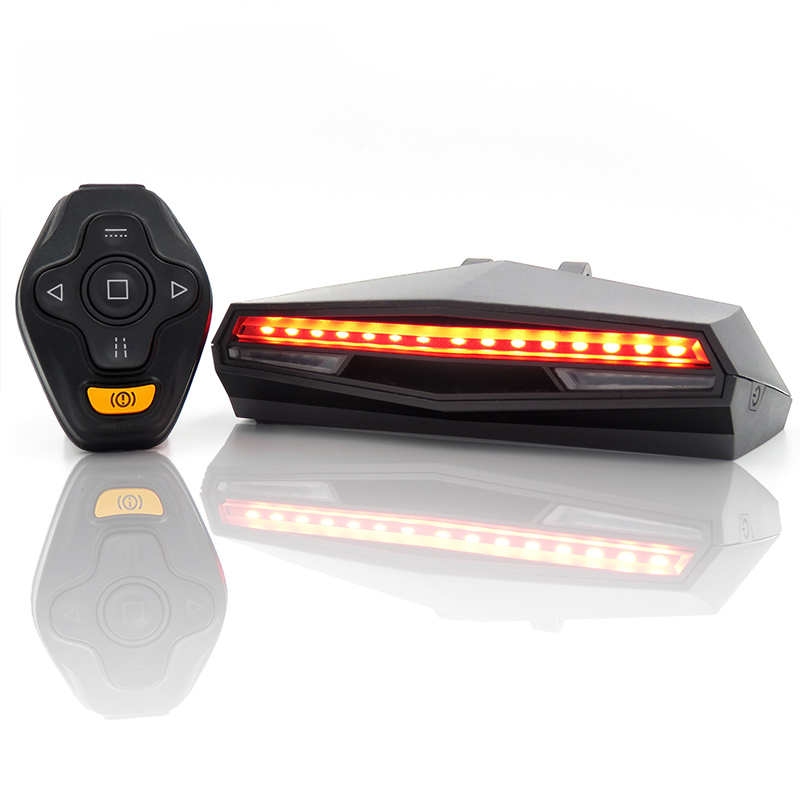 Bike tail light C1
ULTRA-BRIGHT LED BICYCLE TAIL LIGHT – Ampulla bicycle rear light has 29 of 85LM LED lights (30lm is common used on other tail lights) & 2 ground lane alert, bright enough to be seen from 150ft away in foggy/rainy day or even in dark night —Best Bicycle Accessories You Need
WIRELESS REMOTE CONTROL – Remote control the bike rear light to send signals in different modes by the six easy to use buttons on the wireless controller.
RIGHT/LEFT TURNING LIGHT – Simply turn on right/left turn signals through the wireless remote control, emergency lights, and ground lane alert. Get drivers' attentions from several blocks away, securing your safety when riding in traffic.
UNIQUE GROUND VIRTUAL LANE – Ultra-bright laser on the ground warns any possible incoming vehicle, giving the rider their own virtual lane, further increasing visibility.
IPX4 WATERPROOF – IPX4 Waterproof level can be used in small to moderate rain in the temperature of in -4-140°F — your best partner for outdoor biking.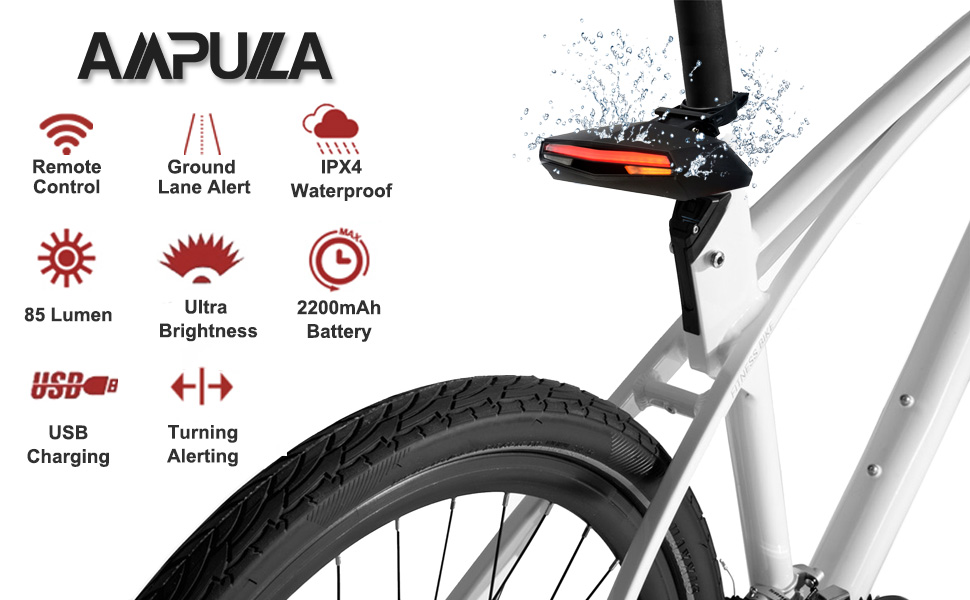 Bike Tail Light
The designing inspiration of the Oricycle remote control bicycle tail light comes from Batmobile. Creative and stylish appearance, well coordinate with all kinds of bicycle: mountain bike, road-bike, off-road bike, racing bike, you name it. Together with smart remote control, easily control the right/left turn signal, emergency light and alert guides, provide great safety for cyclist during night time or rainy day.
Package includes:
1 x Bicycle Rear Light
1 x Remote Control
1 x Rear Light bracket
1 x Rubber Belt
1 x USB Charging Wire
1 x Manual Instruction
4 x Screws, nuts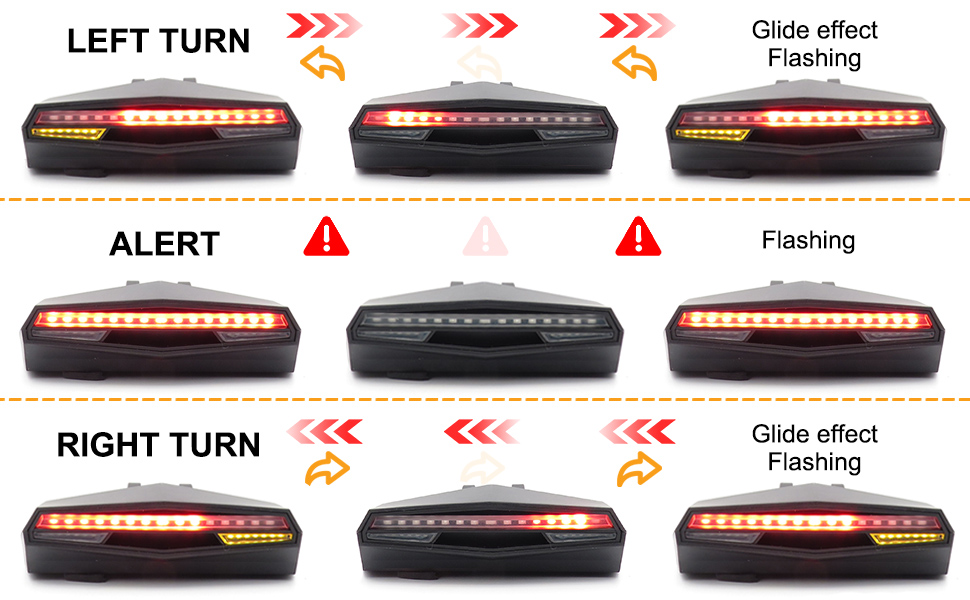 The Powerful Rechargeable Bike Tail Light
 Bike Tail light C1 has an excellent performance at night time. Ultra-bright 85lm LEDs rare light make you visible from blocks away. Special design built-in light beam projector projects ultra-bright lanes on the ground, giving the rider their own virtual lane. Remind drivers to keep safety distance when driving passes you.  Bike Tail light C1 providing peace of mind for your ride, is your best partner for outdoor biking!
Bike Tail light C1 Specifications:
Rear Light Size: 110mm*65mm*30mm
Rear Light Weight: 125g
Rear Light Charging Input: DC5V 800mA
Remote Control Battery Capacity: 180mAh
Waterproof Level: IPX4
Red Alarming Light Brightness: 85 lumen
Rear Light Battery Capacity: 2200mAh
Working Environment: -20 – 60°C(-4 -140°F)
Rear Light Endurance: More than 7 hours
Rear Light Charging Time: 3.5 hour normal charging time
Rear Light Full Battery Standby: The device been turned on but light off standby time 14 days
Remote Control Endurance: Standby more than 4 months